SitesFind a site within the Abraham Lincoln National Heritage Area
EventsThe Heritage Area has a lot of events for you to discover
NewsKeep up on the most recent news from Looking for Lincoln
Current News

Looking for Lincoln on NPR
Saturday, February 18, 2023
NPR Illinois and Looking for Lincoln are joining forces all week long, Feb 20-24, 2023 to tell a handful of the lesser-known stories of early Illinois.


---
Upcoming Events

HISTORY COMES ALIVE
Friday, June 2, 2023 12:00 AM - Sunday, August 6, 2023 12:00 AM
Meet the Lincolns at historic sites throughout the city. Enjoy historic portrayals at locations such as the Lincoln Home National Historic Site, the Lincoln Herndon Law Office, the Abraham Lincoln Presidential Library and Museum, and the Lincoln Tomb. Listen to Lincoln deliver some of his most famous speeches at the Lincoln Depot, and enjoy live music and an ice cream social at Edwards Place.

LINCOLN DAYS CIVIL WAR REENACTMENT
Saturday, June 3, 2023 9:00 AM - Sunday, June 4, 2023 5:00 PM
You'll have a front row seat as Civil War battles rage all weekend long. Armies of both the Union and the Confederacy will battle it out along the shores of lovely Lake Pittsfield. Explore the encampments surrounding the battlefield for a rare glimpse into the life of the soldiers, officers, doctors and others who served on the front lines of the War Between the States. Watch as the Infantry, Cavalry and Artillery conduct their practice drills. Witness a vintage baseball game, and talk with Lincoln, Grant and Lee. Plus, enjoy a ladies' fashion show, children's games and crafts, and be part of a Sunday morning period church service.

"Bob Lincoln for President" - The Public Life of Abraham Lincoln's Oldest Son
Wednesday, June 21, 2023 7:00 PM - 8:00 PM
Abraham Lincoln's oldest and only surviving son Robert lived his adult life in the public eye. As a public man, he could have had any elective office he wanted, up to and including president of the United States. Unlike his father, Robert had no interest in being a politician; he did believe in the duty of a citizen, however, and held multiple appointed offices in federal and state government. Even in his private life as lawyer and businessman Robert faced various issues that resonated in the public arena. While today Robert Lincoln's life is relatively obscure, he was a respected man during his lifetime who showed himself to be a worthy heir of one of the greatest Americans, and today is considered one of the most successful presidential children in US history. Lincoln historian and Robert Lincoln biographer Jason Emerson will examine Robert Lincoln's public life and show how and why the oldest Lincoln child was exactly the kind of man his father wanted him to be.
Jason Emerson is the author or editor of nine books, including Giant in the Shadows: The Life of Robert T. Lincoln, The Madness of Mary Lincoln, and Lincoln the Inventor. Learn more about him on his website at www.jasonemerson.com.
This program will livestream on Looking for Lincoln's Facebook page and YouTube Channel. The event is FREE. Please do not click on any links that take you to pay page. Our free Facebook events will never ask you for a credit card. If you have trouble finding the event, check the main news feed on the page, and do not click on links in the comments.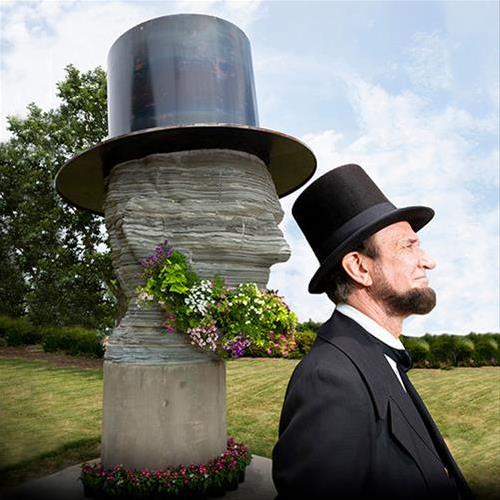 Regional Highlight
The Living Lincoln Topiary Monument is a 15 ft high & 8 ft wide bust of our 16th President. The president's beard consist of real living flowering plants and greenery, making it the only sculpture of its kind in the world. It's a giant Chia Pet of Lincoln! The monument was designed as the centerpiece of Unforgettable Forgottonia's Looking For Lincoln Self-Guided Tour, about Lincoln's connections to Macomb and McDonough County.