SitesFind a site within the Abraham Lincoln National Heritage Area
EventsThe Heritage Area has a lot of events for you to discover
NewsKeep up on the most recent news from Looking for Lincoln
Current News

LaSalle Co. and Pontiac Scavenger Hunt
Tuesday, August 24, 2021
Tour LaSalle and Livingston County's most notable Lincoln sites and attractions, answer questions and snap photos for this family-friendly scavenger hunt. Complete challenges at all 15 sites you'll earn a Challenge Coin!
State Police join Abraham Lincoln on the Big Slide
Tuesday, August 24, 2021
On Sunday, August 15, five Illinois State Police troopers joined Abraham Lincoln as they hit the bright yellow slopes of the Illinois State Fair Giant Slide. The officers offered an excellent security detail as they proceeded down the iconic slide.

---
Upcoming Events

Abraham Lincoln Fathers a City: A Glimpse into the Namesake City of Lincoln Illinois
Wednesday, November 10, 2021 7:00 PM
In this conversation, Lincoln College professor Ron Keller traces the unique Abraham Lincoln heritage of Lincoln, Illinois, the only city named for (and christened by) Abraham Lincoln before he was president. From Lincoln's days in as a circuit-riding lawyer in nearby Postville in the 1830s, to his visits to Lincoln as a trial attorney and rising politician, some of the people Lincoln met and places Lincoln went to in the city will be examined. We will even explore how a plot to steal Lincoln's body after his death has a Lincoln, Illinois connection.

Lincoln and Mormon Country
Wednesday, December 1, 2021 7:00 PM
What does Abraham Lincoln have to do with Mormon Country? Join our conversation with historian Bryon Andreasen to hear stories and learn reasons why this topic has important relevance for the Abraham Lincoln National Heritage Area.
Bryon Andresen is a historian at the LDS Church History Museum in Salt Lake City and the author of "Looking for Lincoln in Illinois: Lincoln's Springfield" and "Looking for Lincoln in Illinois Lincoln and Mormon Country." He was formerly the research historian at the Abraham Lincoln Presidential Library and Museum and helped create the Looking for Lincoln Heritage Coalition.
This program will livestream on Looking for Lincoln's Facebook page and YouTube Channel. https://www.facebook.com/LookingforLincoln, or https://www.youtube.com/user/LookingforLincoln
The event is FREE. Please do not click on any links that take you to pay page. Our free Facebook events will never ask you for a credit card. If you have trouble finding the event, check the main news feed on the page, and do not click on links in the comments.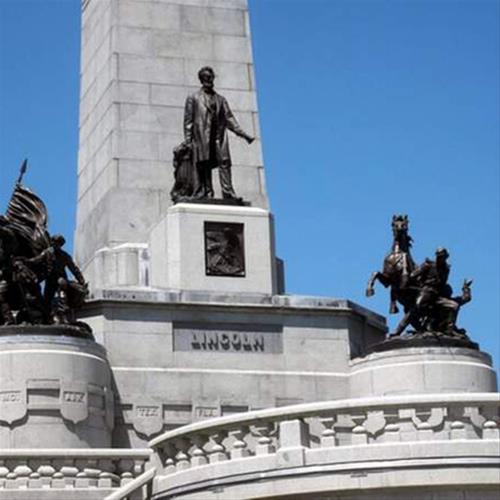 Regional Highlight
Oak Ridge Cemetery is the final resting place of Abraham Lincoln and his family with the exception of his son Robert Todd Lincoln who is buried in Arlington National Cemetery. Each year, visitors from around the world visit the Lincoln Tomb to pay their respects to the 16th President of the United States. One of the most popular activities at the Lincoln Tomb State Historic Site is rubbing the bust of Lincoln's nose in front of the tomb.