SitesFind a site within the Abraham Lincoln National Heritage Area
EventsThe Heritage Area has a lot of events for you to discover
NewsKeep up on the most recent news from Looking for Lincoln
Current News


Looking for Lincoln on NPR
Saturday, February 18, 2023
NPR Illinois and Looking for Lincoln are joining forces all week long, Feb 20-24, 2023 to tell a handful of the lesser-known stories of early Illinois.

---
Upcoming Events
A Slave's Path to Sainthood the Story of Father Augustus Tolton
Wednesday, January 10, 2024 7:00 PM - 8:00 PM
Augustus Tolton was nine years old when his mother spirited him and his brother and sister from slavery in MIssouri to Quincy in the free state of Illinois. Even there, Gus, as he was called, knew discrimination and privation, even in the Catholic churches in which he was educated and served. Discerning a call to priesthood, Tolton found no American seminary willing to admit him. Trained in Rome, he returned to Quincy as the nation's first black Catholic priest. Today, the Venerable Father Gus Tolton is on a path to sainthood in the universal Catholic Church.
Reg Ankrom's interest in Abraham Lincoln led him to Stephen A. Douglas. And Reg is now working on the final volume of his three-volume biography of Douglas. Numerous books, journals, magazines, and newspapers have published more than a hundred of Reg's works in historical literature. He speaks frequently on Douglas and Lincoln and antebellum American history.
This program will livestream on Looking for Lincoln's Facebook page and YouTube Channel. The event is FREE.
Lincoln and Black Colonization
Wednesday, February 7, 2024 7:00 PM - 8:00 PM
Lincoln's early endorsements of colonization and his ultimate abandonment of the policy has been the subject of considerable debate. Mitchell's discussion will explore the Lincoln's opinions on colonization, his failed colonization experiment, and his ultimate abandonment of colonization as a method of dealing with the issue of African Americans in the United States.

Brian Keith Mitchell is a native of New Orleans and was formerly an Associate Professor of History at the University of Arkansas Little Rock and an Associate Faculty Member at the Anderson Institute on Race and Ethnicity before leaving in the Spring of 2022. Mitchell currently serves as Director of Research and Interpretation for the Abraham Lincoln Presidential Library and Museum. A graduate of the University of New Orleans, Mitchell is the winner of the 2021 Phyllis Wheatley Award for Monumental: Oscar Dunn and his Radical Fight in Reconstruction Louisiana, 2021 Louisiana's selection for the Library of Congress' "Great Reads from Great Places", Finalist for the Organization of American Historians' Civil War and Reconstruction Book Award, The National Council of English Teachers' Orbis Pictus Bronze Medal, and the American Association of State and Local History's Excellence in History Leadership award. He is the author of numerous papers, book chapters, and books, and is nationally recognized for his public history and digital humanities projects which often explore difficult and forgotten histories. His research has been covered by CNN, Atlas Obscura, the New York Post, the Guardian, National Public Radio, New York Times, Washington Post and the Associated Press.
This program will livestream on Looking for Lincoln's Facebook page and YouTube Channel. The event is FREE.
Madness of Mary Lincoln: a Reappraisal
Wednesday, March 6, 2024 7:00 PM - 8:00 PM
In the 16 years since his groundbreaking book The Madness of Mary Lincoln was published, Jason Emerson has continued researching and writing about Mary Lincoln, publishing multiple books and articles on her, giving lectures, and assisting other historians with their work on this controversial first lady. In his next talk on Looking for Lincoln, Emerson will discuss his opinions on Mary Lincoln's mental health and her Insanity Case, and how his ideas and interpretations of her story have evolved in the nearly 20 years since he finished writing his first book. Was she crazy? Was she framed? Has new scholarship revealed new evidence that should change our minds? Emerson will take us on a tour of this most infamous topic of Mary's life and bibliography.
Jason Emerson is the author or editor of nine books, including Giant in the Shadows: The Life of Robert T. Lincoln, The Madness of Mary Lincoln, and Lincoln the Inventor. Learn more about him on his website at www.jasonemerson.com
This program will livestream on Looking for Lincoln's Facebook page and YouTube Channel. The event is FREE.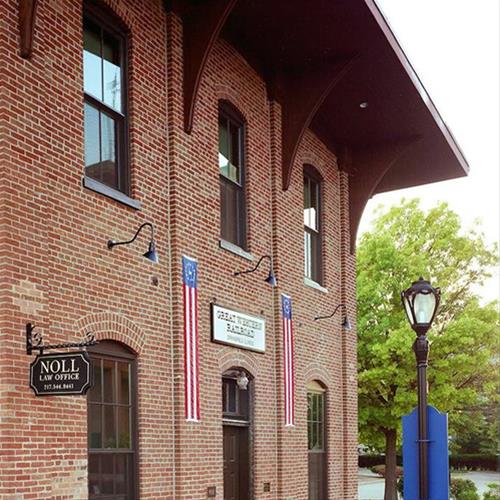 Regional Highlight
The Lincoln Depot or Great Western Depot is the place where Abraham Lincoln left Springfield as President elect en route to D.C. On the morning of Feb 11, 1861 Lincoln said his final goodbyes to friends and supporters at the depot before boarding the train. At 8 am Lincoln gave an impromptu speech to a crowd of over 1000 people who had gathered to see him off. You can visit the first floor of the Lincoln depot which offers a self-guided tour.